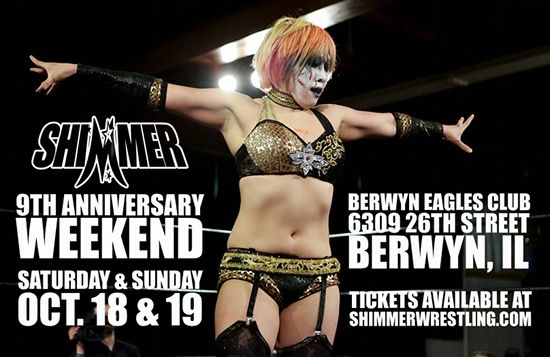 SHIMMER - WOMEN ATHLETES
returns to action on Saturday & Sunday, October 18th & 19th, 2014 at the Berwyn Eagles Club (6309 26th Street) in Berwyn, IL. Volumes 67-70 of the SHIMMER series will be filmed during the course of that weekend, which will also celebrate SHIMMER's 9th Anniversary! The events are suitable for all ages.
SHIMMER 67 & 68 will take place on Saturday, October 18th. Bell time on Saturday is 2PM Central.
SHIMMER 69 & 70 will take place on Sunday, October 19th. Bell time on Sunday is 1PM Central.
ATTENDANCE ADVISORY~! Ticket sales thus far for these shows are ahead of the typical numbers. We expect these shows to reach venue capacity. The Saturday show in particular is likely to sell out in advance. If you're in the habit of buying tickets at the door on the day of the show, we strongly advise that you purchase tickets in advance this time to guarantee admission. Once we reach capacity, we must turn away any additional fans attempting to buy tickets on the day of the show.
To purchase tickets head to Shimmer Women Athletes.
--- More at
UnRatedMagazine.com
|